Jobs and Personnel for All Industries

See all Tempton job offers in German
You are very welcome to
Germany's best
HR service provider
Best employer in the area of "Personnel Services" according to Focus-Business (02/2023)
About Tempton
Tempton is one of Germany's leading HR services providers. More than 11,500 businesses rely on us to provide them with qualified staff from virtually every industry. These include industrial and commercial assistants, specialist assistants and specialist personnel as well as examined health care staff, airport personnel, engineers and interim managers.
Our service portfolio sets us clearly apart from other HR services providers, because we go beyond supplying temporary staff, offering our customers virtually every service to suit their given HR requirements.
Tempton is a modern employer and service provider. Our employees come from over 90 countries. The teams at our branches often have native speakers from several countries who will be happy to assist you.
Those who choose Tempton as an employer are choosing a secure, future-proof workplace. Because we work with over 11,500 businesses in virtually all industries, we can find the right challenge for each of our candidates. The most important information about Tempton is shown below:
10 good reasons to choose Tempton as an employer
Good rates of pay
Working at Tempton is fun and very well paid. At our company, the federal collective wage agreement (BAP) ensures 100% fair working conditions. And in addition to your basic salary, which is often better than that determined by the collective agreement, we also offer several attractive additional benefits, such as holiday pay and Christmas bonuses, paid overtime and contributions to the company pension scheme.
A secure job
We believe in long-term collaborations. You can therefore expect a permanent job and in most cases an indefinite employment contract at Tempton. Some of our employees have now been working for us for more than fifteen years.
Bring a friend on board
We are very pleased when our employees convince their friends or acquaintances to work for us. And if they do, we reward them with a cash prize: anyone who brings a new employee on board is paid a monetary bonus. If required, we will also give you information and promotional material to pass around amongst your friends.
Encouraging further training and education
Would you like to move forward in your career instead of treading water? Then we will be pleased to support you. Whether it is a forklift or crane driver's license for industrial and technical jobs, or it is further training in the medical field – we can help you to achieve your goals. The best idea is to discuss the corresponding requirements with the branch office in your region. Our colleagues know exactly what type of further training can really help you in your field.
Top jobs
Tempton is a partner to more than 11,500 companies in Germany. Together, we will find the right assignment for you. Whether you would like to work as a temporary employee for several months or you are seeking a permanent position: thanks to our long-standing contacts with many leading companies, we can offer you the right job at any time.
Advice and support for employees
You are our employee. That is why we support you. Your contact person at our company is always available and there to help you. You become part of a great Tempton team. We consider fairness, appreciation and respect to be core values. The staff at our approx. 200 Tempton branches will be pleased to welcome you at any time, even without an appointment. Just drop by!
Regional proximity
Each of our approx. 200 locations is deeply rooted in its region. This means that our colleagues know the local job market just as well as the companies in their area. Finding you the right job in your local area therefore becomes a whole lot easier.
Excellent benefits
As an employee, you are able to receive excellent benefits from our benefits programme. With the Tempton Plus benefits programme for employees, you receive exclusive offers and discounts at leading partners in a variety of sectors. Every now and then, we also give you vouchers from our partner Bonago, which you can redeem in more than 250 major stores.
Feedback is welcomed
Tempton regularly asks its employees to provide anonymous feedback on ratings websites such as Kununu or Google. You are also able to fill out feedback cards in each branch to leave a record of your experiences.
Exemplary social benefits
Tempton offers its employees benefits which far exceed the statutory social benefits. We don't just support you with administrative tasks like filling out forms and documents for public authorities, we will also be pleased to help you find accommodation.
Working at Tempton – From application to employment
Application
Tempton has over 30 years' experience of employing foreign personnel.
Getting to know us
You'll get to know your consultant during the interview. That individual will attend to you personally in future. You and the consultant will discuss the kind of work you would like, what working hours suit you best, and what skills you have to offer. Once we have reached agreement, we will send you an offer, followed by an open-ended contract of employment.
Where you will be deployed
Tempton has more than 200 offices and 11,500 customers all over Germany. That means we are able to offer you suitable technical or industrial jobs. On your first day with us – and sometimes even before that – we will bring you to the company personally, show you your workplace, and introduce you to your colleagues.
How long will you stay?
We plan to work with you long-term, which is why we give you an open-ended contract of employment. The length of time you spend as a temporary employee with one of our customers varies. It may be one month, up to a maximum period of 18 months at any one time. However, if you really feel that you don't fit in with a customer, your consultant will get involved immediately and will find you a new workplace as a last resort.
Employment agency or temp agency?
We actually do not wish to lose anybody, which is why temporary work is mainly what we do. However, some customers also wish to take over our staff. If that suits you too, we will agree on your transfer to the customer after a mutually defined period.
What legal conditions do non-Germans have to meet in order to work with us?
If you are an EU citizen, all you need is valid ID.
If you are a citizen of a non-EU country you will need a valid passport and a residence permit (temporary/permanent).
For our candidates
Would you like to apply? Then give us a call, browse our job openings, or drop in to one of our branches. More information about Tempton is available in the German-language version of the website.
Find out more
The Tempton portfolio is one of the most diverse of all German HR services providers. From assistants to master craftspeople in industrial and technical areas, (qualified) medical personnel, airport staff, engineers and technicians, we offer you helping hands.
5 good reasons to choose us as your HR services provider
Diverse specializations
We can offer you staff in all areas.
Fast and flexible
Are you looking for temporary or permanent staff? We can often supply our customers with the personnel they need within a couple of hours.
Broad portfolio
With our diverse HR solutions, we can help you resolve any HR problem at all times.
Recruitment 4.0
So that we can find suitable staff for you, we place ads every day on up to 300 job portals. In doing so, we use cutting-edge recruitment technologies. Out of the 100,000 candidates we list every year, we choose the best ones for you on the basis of mutual interest.
Quality assurance
Our services and processes are comprehensively certified.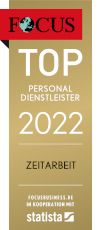 Awards
Who actually decides on quality? In a best-case scenario, it's our employees and customers. And they have given us several awards.